Pelantikan Shafie sebagai Ketua Menteri disambut baik masyarakat Sabah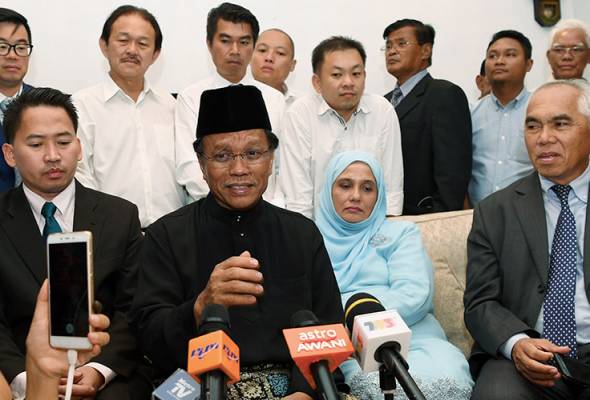 Mohd Shafie ketika mengadakan sidang media selepas mengangkat sumpah sebagai Ketua Menteri Sabah ke-15 di Istana Negeri Sabah malam tadi. Turut sama isteri beliau Datin Seri Shuryani Shuaib (duduk dua, kanan). --fotoBERNAMA
KOTA KINABALU: Yet another twist is taking place in Sabah politics, as Warisan chief Shafie Apdal took his oath tonight as the chief minister, just two days after Musa Aman was sworn in after getting majority support from assemblymen.
Shafie, 61, took his oath in front of Sabah governor Juhar Mahiruddin at a packed hall in the state palace at 9.15pm.
Among those who attended were elected representatives from Warisan, its Pakatan Harapan allies, Upko acting president Wilfred Madius Tangau, former state assembly speaker Syed Abbas Syed Ali and state VIPs including chiefs of uniformed bodies, among others.
Musa was sworn in as the chief minister late Thursday after getting a simple majority to form the state government, following defections by two candidates from STAR, including its president Jeffrey Kitingan, to the Barisan Nasional (BN) camp.
But Shafie later announced that six BN assemblymen had agreed to join his coalition, increasing its seats to 35 from 29 previously.
KOTA KINABALU: Pelantikan Presiden Parti Warisan Sabah (Warisan), Datuk Seri Mohd Shafie Apdal sebagai Ketua Menteri Sabah berkuat kuasa pada Sabtu mendapat reaksi positif masyarakat setempat.
Mohd Azlan Abidin, 26, berkata perkara itu merupakan perkembangan positif untuk politik di Sabah sekali gus membolehkan rakyat dipimpin oleh ketua yang diyakini dapat membangun Sabah serta penduduknya.
"Warisan menjamin proses pembangunan dan kemajuan kawasan bandar dan luar bandar Sabah, dan diyakini kerajaan baru di bawah Shafie lebih fokus kepada suara rakyat yang akan terus dipanjangkan kepada kerajaan pusat," katanya kepada Bernama.
Beliau turut yakin Mohd Shafie dapat menggalas tanggungjawab selaku Ketua Menteri Sabah dengan baik dan mendahulukan rakyat dalam segala perkara.
Senada mengenai perkara itu, Suzalina Kahar, 35, berkata pengalaman, kredibiliti serta komitmen dimiliki Mohd Shafie adalah kelebihan baginya memimpin negeri ini dengan baik dan teratur.
"Tahniah Datuk Seri (Mohd Shafie), semoga dapat membimbing Sabah ke hadapan sebagai negeri pelbagai budaya, bersatu dan sederhana," katanya.
Sementara itu, Alen Chen, 31, menzahirkan kegembiraan mengenai pelantikan Mohd Shafie dan berkata harapan agar beliau dapat melaksanakan kerja dengan baik serta berdedikasi.
"Beliau dipilih rakyat dan memegang peranan penting untuk mensejahterakan rakyat Sabah, justeru jangan mengecewakan kami," katanya.
-- BERNAMA
FREE MALAYSIA TODAY