Teluk Intan by-election: Barisan wins by narrow margin
PETALING JAYA: It was a cliff-hanger ending for the Teluk Intan by-election with unofficial results showing Barisan Nasional has taken the seat by a majority of 238 votes.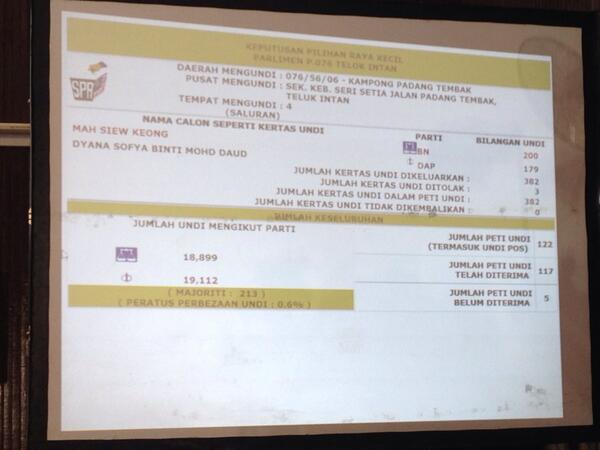 Pengumuman penjumlahan undi terhenti pada 5 peti undi terakhir.
Barisan's Datuk Seri Mah Siew Keong garnered 20157 votes against DAP's Dyana Sofya Mohd Daud, who had 19,919 votes.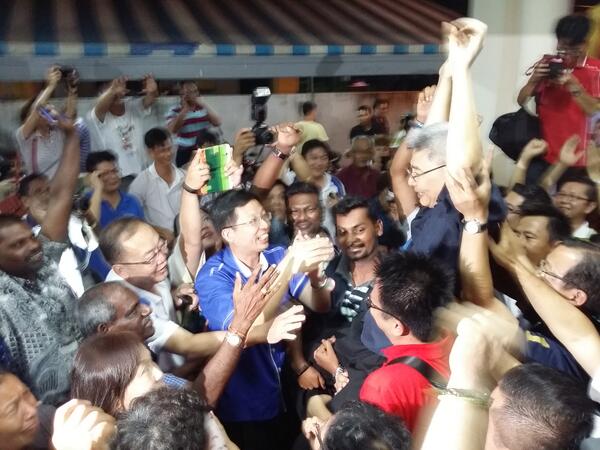 It was a close fight with both sides leading at various stage of the count, but Mah, who is Gerakan president, emerged victorious in the end.
DAP appears to have conceded defeat in a tweet via @dapmalaysia acknowledging that Barisan had won.
Mah's win is a major upset because the incumbent was DAP, which had won Teluk Intan with a majority of more than 7,000 votes in the 13th general election.
Election Commission chairman Tan Sri Abdul Aziz Mohd Yusof said there were 40,236 voters or 66.67% turnout in the by-election, including early voters.