Sultan consents for Azmin to remain as S'gor MB
Alyaa Alhadjri
| Published on Today 1:53 pm | Modified on Today 4:10 pm
Malaysiakini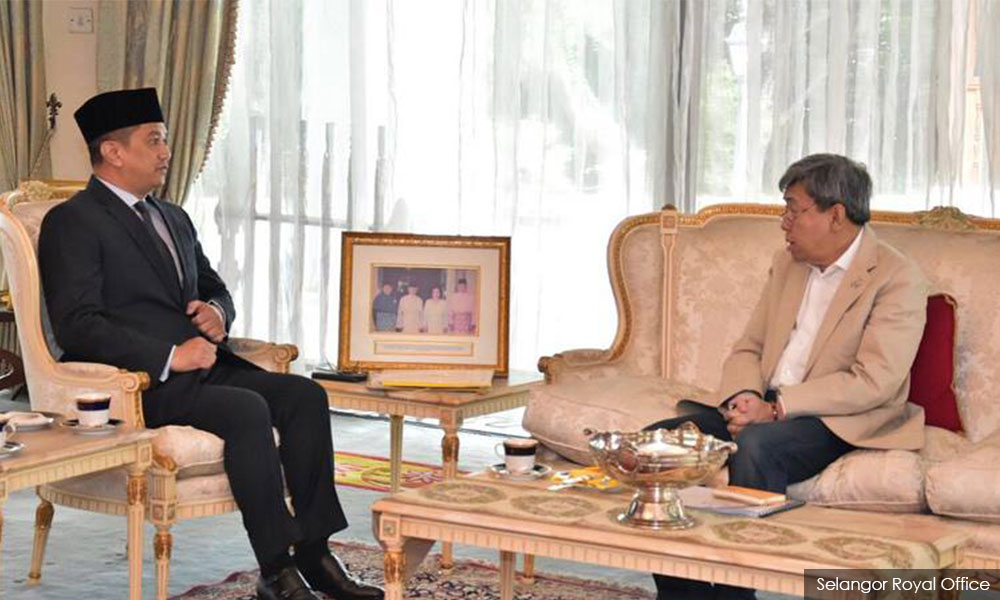 GE14 | Selangor ruler Sultan Sharafuddin Idris Shah has consented for PKR deputy president Mohamed Azmin Ali to form the new state government and to be sworn in again as the menteri besar.
In a statement, the sultan's private secretary Mohamad Munir Bani said Azmin was granted an audience at Istana Bukit Kayangan in Shah Alam this afternoon, at which he informed the monarch on the outcome of the election in Selangor, as well as the latest developments in the state PKR leadership.
"Azmin also informed the sultan that he had gained the support of all Harapan state assembly members to be appointed as the Selangor menteri besar," Mohamad Munir said.
"The sultan has granted that the Selangor state government be formed as soon as possible after securing the mandate from the people, in order to ensure a smooth state administration, as well as ensuring harmony and prosperity.
"The sultan has also given his consent to appoint Azmin as the Selangor menteri besar.
"Therefore, the swearing-in ceremony for the new Selangor menteri besar will be held tomorrow (Friday) at 3pm at the Balairung Seri, Istana Alam Shah, Klang," Mohamad Munir added.
Azmin was earlier spotted, around 11.50am, being driven into the palace compound, and he left at around 1.20pm. Also present was Selangor chief of police Mazlan Mansor.
Azmin's meeting with the sultan followed Pakatan Harapan's victory with a supermajority in Selangor, winning 51 out of the 56 state assembly seats in yesterday's 14th general election.
Harapan candidates faced BN and the PAS' Gagasan Sejahtera coalition in the majority of the state seats, on top of five-cornered contests with Parti Sosialis Malaysia and Parti Rakyat Malaysia, both of which were completely wiped out.
Azmin successfully defended his
Gombak
parliamentary seat and
Bukit Antarabangsa
state seat in this election.