Crowd gathers at Subang Airport to 'stop' Najib, Rosmah departure
Koh Jun Lin
| Published on Today 10:36 am | Modified on Today 10:53 am
FMT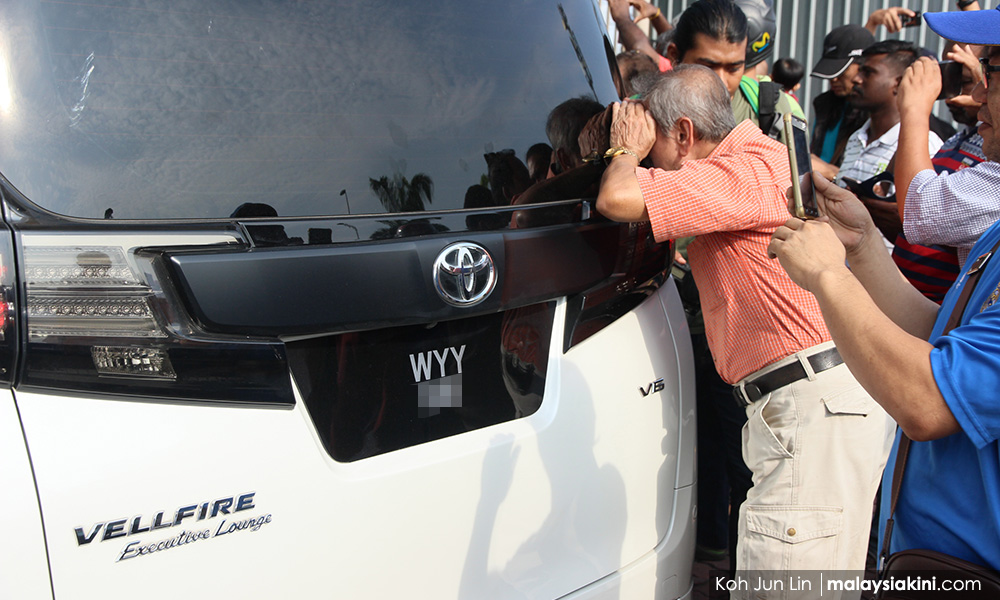 A crowd of about 60 people and members of the press have gathered outside Subang Airport in hopes of "catching" former prime minister Najib Abdul Razak and his wife as they leave the country.
This came after his purported flight itinerary was
leaked online
, which indicated that the duo were scheduled to depart from the airport to Jakarta at 10am today.
This initially sparked fear that Najib and his wife were about to flee the country following BN's spectacular fall from grace following Wednesday's general election.
However, a source close to him told Malaysiakini Najib was merely embarking on a two-day trip.
Najib, too, had said on social media that he is about to take a break to spend time with his family.
Things at the airport became tense when a Toyota Velfire with heavily-tinted windows and no road tax stickers turned up at the airport's Post 6 at 9.30am, which is the gate that leads directly to the airport's Skypark Business Avaiation Centre.
Many in the crowd mobbed the vehicle, with some attempting to peer through the windows and others demanding to know who was inside. All while police attempted to maintain order and press photographers jostle for a shot.
This kept on for several minutes until one of the windows briefly wound down to reveal Arau MP-designate Shahidan Kassim, and he was promptly let through the gate along with another vehicle that appeared to carry only its driver.
Members of the police Light Strike Force arrived to stand guard at the gate at about 9.50am, but stood down at 10.25am once tensions died down
.
F
An unnamed former government leader and his spouse have reportedly arranged a private jet to take them to Indonesia, according to the Astro Awani news portal.
Quoting sources, it said the married couple are due to depart from the Sultan Abdul Aziz Shah Airport in Subang at 6am tomorrow on a plane bound for Jakarta.
Both the news portal and its sources did not identify the leader or the spouse in question.
Tun Dr Mahathir Mohamad's Pakatan Harapan (PH) defeated the Barisan Nasional-led (BN) by former prime minister Datuk Seri Najib Razak in a fiercely-fought general election on Wednesday.
Dr Mahathir was sworn in as the country's seventh prime minister last night.
Najib earlier attended a sombre celebration for Umno's 72nd anniversary at the Putra World Trade Centre this evening.
Najib Abdul Razak will be leaving for Jakarta for a two-day break beginning tomorrow, according to a source close to the ousted prime minister.
The source said this when asked about the veracity viral photograph detailing a chartered flight manifest which lists Najib and his wife Rosmah Mansor as passengers.

According to the photograph, the flight – with the tail sign PK-RJX – was to depart for from the Subang airport at 10am tomorrow.

The destination is Halim Perdanakusuma International Airport, Jakarta.

This sparked speculation that Najib was about to flee, three days after leading BN to its worst electoral outing ever.

"He wants a rest and so he is going away for two days. He will be back," said the source.

The source dismissed speculation that Najib was about to flee the country.

"Everyone has the flight schedule… So they can go and check if he is fleeing with bags of money and stuff… There is no such thing (as fleeing)," said the source.