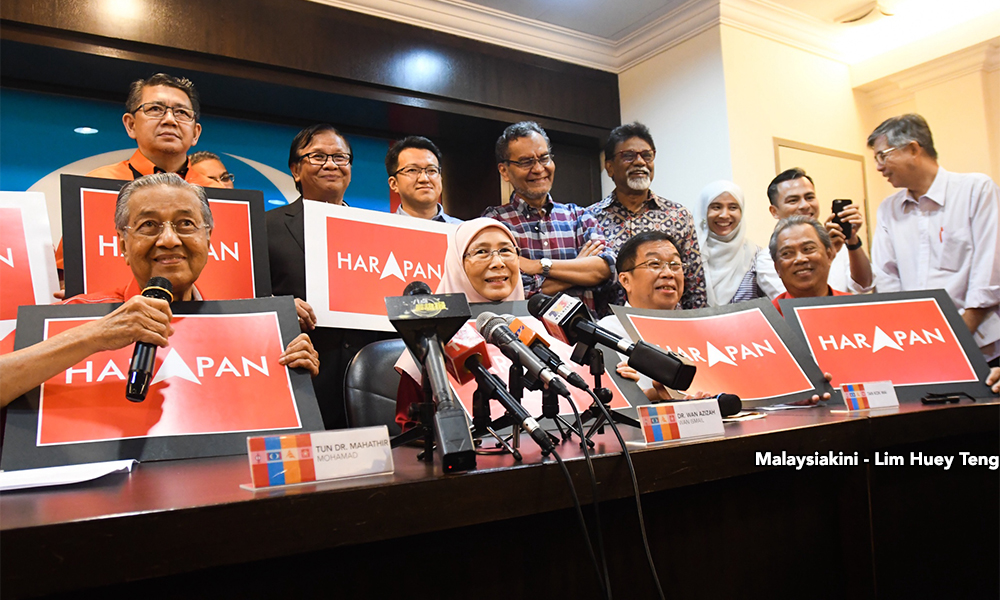 New Logo Of Pakatan Harapan
Pakatan Harapan announces leadership line-up; Anwar is de facto leader, Dr M Chairman/.
ARFA YUNUS and LAILI ISMAIL
New Straits TimesJuly 14, 2017
KUALA LUMPUR: Datuk Seri Anwar Ibrahim has been named Pakatan Harapan's de facto leader, while his former boss Tun Dr Mahathir Mohamad will be the coalition's chairman.
Speaking to reporters after a five-hour meeting, Dr Mahathir who is also Parti Pribumi Bersatu Malaysia (PPBM) chairman, said the decision was made after all four component parties agreed unanimously on the new leadership line-up.
"Datuk Seri Dr Wan Azizah Wan Ismail is the president, while the deputy presidents are PPBM president Tan Sri Muhyiddin Yassin, DAP secretary-general Lim Guan Eng and Parti Amanah Negara (PAN) president Mohamad Sabu.
"The vice presidents are PKR deputy-president Datuk Seri Mohamed Azmin Ali, PPBM deputy president Datuk Seri Mukhriz Mahathir, Sarawak DAP chief Chong Chieng Jen and PAN deputy president Salahuddin Ayub.
"Meanwhile, the secretary-general is Pakatan Harapan chief secretary Datuk Saifuddin Abdullah, and DAP vice president M Kula Segaran is the treasurer," he said.
The former premier told the media that Pakatan Harapan will submit its registration form to the Registrar of Societies (RoS) in less than a week after other details apart from the coalition's structure, were ironed out.
Dr Mahathir also said if the pact managed to wrest Putrajaya in the next general election, it would abolish Goods and Services Tax (GST) within the first 100 days and stabilise the petrol prices, among other plans.
He also expressed the pact's commitment to free Anwar from his sodomy charges.
"Pakatan Harapan gives it commitment to start the procedure to obtain a royal pardon for Anwar within the first week of forming the government.
"The application that will go through the legal process and seek the royal consent, will enable him to fully return to the national political scene," he added.
Pakatan Harapan during the press conference also revealed a new logo in red and white which bears the word 'Harapan'.
When asked if the pact would name Anwar as the primer minister candidate, Dr Mahathir said the former would be the eighth prime minister.
"Today we are only announcing the eighth prime minister...we have yet to declare the seventh," he said.
Dr Mahathir in an interview with Nikkei Asian Review recently said he would take over the premiership again if "friends" in the opposition pact saw fit to ask.
This prompted Anwar to say that it was not Dr Mahathir's place to unilaterally decide who should be the pact's choice for prime minister.
Anwar is currently serving a five-year sentence for sodomising his former aide and the country's laws prevent him from contesting in an election or holding a political position for five years after his release, which will be in 2020.
Anwar was deputy prime minister and heir apparent to Dr Mahathir in the 1990's, until he was unceremoniously kicked out of the government and Umno following allegations of corruption and sexual misconduct.