KUALA LUMPUR, July 6 — A crowdfunding campaign to cover Datuk Seri Najib Razak's RM500,000 bail has hit RM86,282 as at 9.30am today, within 24 hours of being set up.
The CIMB account number 8601952060 under the name Kelab Belia Berkhidmat was started by Seputeh Umno deputy division chief Datuk Mohd Razlan Rafii in solidarity with the former prime minister who was charged with three counts of criminal breach of trust and one count of power abuse for personal gain over SRC International Sdn Bhd, a subsidiary of his brainchild 1Malaysia Development Berhad (1MDB) at the High Court Wednesday.
Najib was released the same day after his children paid half of the RM1 million bail amount, but must cough up the other half by next Monday.
Mohd Razlan has said that the fund is purely to help Najib cover his bail amount.
"This fund will only be open until next Monday 9 July 2018 12 noon," he wrote on his Facebook page.
He added that the donation amount will be handed to Najib's representative in court.
Penyokong Datuk Seri Najib Razak kini memulakan tabung untuk memberikan sokongan kewangan kepada bekas perdana menteri itu yang sedang berdepan dengan kes mahkamah.
Ketua Pemuda Umno Wilayah Persekutuan Datuk Razlan Rafii berkata langkah tersebut diambil kerana mengambil kira keadaan bekas presiden mereka yang tidak mampu menjelaskan ikat jamin ditetapkan mahkamah semalam.
Ketika dihubungi Razlan berkata tidak wajar untuk anggota Umno melupakan Najib ketika bekas presiden mereka itu ketika ini.
"Jangan kita tinggalkan kawan kita semasa (dia) susah," katanya kepada Malaysiakini.
Razlan berkata Tabung Solidariti Datuk Seri Najib itu dilancarkan hari ini dan setakat awal petang sebanyak RM11,000 sudah terkumpul.
Terdahulu The Star Online melaporkan Razlan sebagai berkata kutipan tabung berkenaan dilakukan kerana setakat ini Najib belum baru dapat menjelaskan keseluruhan jumlah ikat jamin yang dikenakan kepadanya.
Justeru katanya mereka mahu memberikan sokongan moral dan kewangan terhadap Najib.
"Najib hanya dapat membayar RM500,000 dan untuk mencukupkan jumlah jaminan beliau terpaksa menyerahkan surat milik rumahnya," katanya.
Semalam Najib dibawa ke mahkamah untuk dihadapkan dengan tuduhan pecah amanah dan salah guna kuasa berhubung dana anak syarikat 1MDB, SRC International Sdn Bhd.
Ia melibatkan jumlah sehingga RM42 juta.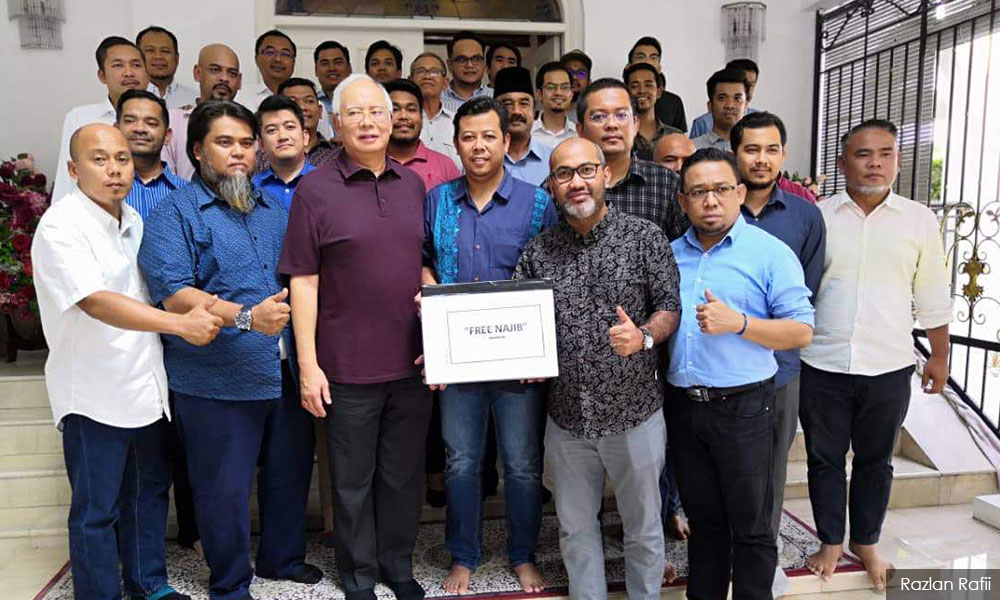 Sementara menunggu perbicaraan mahkamah membenarkan Najib diikat jamin sebanyak RM1 juta dan pasport awam dan diplomatiknya diserahkan kepada pihak berkuasa.
Bagaimanapun disebabkan akaun beliau dibekukan hanya sebahagian daripada ikat jamin itu dibayar dengan wang manakala selebihnya menggunakan sandaran hak milik rumah.
Mahkamah juga membenarkan bayaran tersebut dijelaskan secara ansuran, iaitu semalam dan Isnin ini.
Jaminan itu dibayar oleh anak Najib – Mohd Norashman dan Nooryana Najwa – di sebuah bank di Kompleks Mahkamah Kuala Lumpur.
Kata Razlan, wang yang mereka kumpulkan itu akan diserahkan kepada anak Najib.
"Isnin ini kami akan kami sampaikan kepada anak beliau di mahkamah pada jam12 tengahari," katanya.