American Airlines Fire Caused by Uncontained Engine Failure

Similar malfunction occurred on Southwest plane two months ago
Passenger reports 'huge explosion' in comments to Chicago TV


An American Airlines jetliner that caught fire while preparing for takeoff from Chicago's O'Hare airport late Friday sustained an uncontained engine failure, the second time the rare malfunction has occurred on a U.S. airliner in recent weeks, according to the U.S. National Transportation Safety Board.

It's too early to conclude how the engine failed, senior investigator Lorenda Ward said Saturday at a news conference in Chicago. A disc in a high-pressure turbine failed, and a piece of it was found 2,920 feet (890 meters) away at a United Parcel Service Inc. warehouse, Ward said.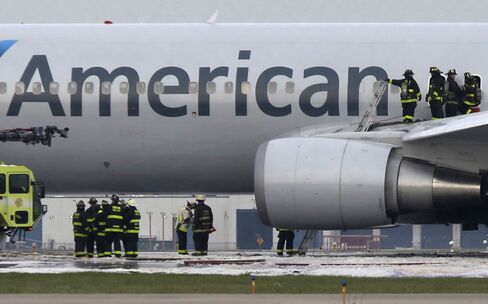 The American Airlines jetliner at O'Hare International Airport on Oct. 28.
Photographer: Antonio Perez/Chicago Tribune via AP

Twenty people were taken to hospitals for treatment of minor injuries ranging from bruises to hurt ankles, Juan Hernandez, district chief of emergency medical services for the Chicago Fire Department, said Friday at a news conference. American said seven travelers and one flight attendant were injured. Passengers escaped the plane on slides as the fire sent columns of thick black smoke into the air.


The Boeing Co. 767 had an engine malfunction just before the fire, said Leslie Scott, a spokeswoman for American. The U.S. Federal Aviation Administration initially said the fire occurred after a tire burst and later issued a statement saying it happened "after experiencing a problem during takeoff."

In an uncontained failure, debris escapes the hardened engine casing and can damage or penetrate the wings or fuselage, amplifying the risk to the aircraft far beyond the loss of thrust. A Southwest Airlines Co. jet was caught in a similar accident just two months ago in Florida.

"There was a huge explosion on the right-hand side of the airplane," passenger Hector Cardenas told the ABC television affiliate in Chicago. "Everyone was sort of panicking."
Charred Wing

Cardenas said the plane was about to take off when the explosion occurred. The last ground speed was recorded at 115 knots, or 132 miles an hour, Flightradar24 posted on Twitter. The fire blackened one side of the plane, and pictures appeared to show the charred wing on that side drooping toward the ground.


The plane was carrying about 43,000 pounds of fuel and there was "a substantial fuel leak," Timothy Sampey, Chicago's assistant deputy fire commissioner for airport operations, said at the news conference. "There was a heavy volume of fire on the engine and all the way to the wing tip."

"This could have been absolutely devastating if it happened later," Sampey said.
Incident Investigation

The pilots aborted the takeoff, said the FAA, which will investigate. Flight 383, headed for Miami, carried 161 passengers and nine crew members.

One potential cause of jet engine explosions is a foreign object that gets sucked in, said Bill Waldock, a professor of aviation safety at Embry-Riddle Aeronautical University, comparing the power plant to a vacuum cleaner. Issues inside the engine have also led to explosions, said Waldock, who was speaking generally and didn't have specific details about the Chicago incident.

Explosions can send shrapnel across the plane and rupture fuel tanks and fuel lines, he said. In the case of a Boeing 767 or Boeing 777, much of the fuel actually is stored in the wing in what's called an integral fuel tank, or "wet wing," Waldock said.