Ex-Malaysia and Perak boss Karl-Heinz Weigang dies in Germany, aged 81
Karl-Heinz Weigang guided Perak to two Malaysia Cup titles and twice saved them from relegation.

Malaysian club Perak lost their revered former coach Karl-Heinz Weigang on Tuesday, with the highly respected servant of Southeast Asian football dying of a heart attack in Germany at the age of 81.

Weigang is a former national coach of both Malaysia and Vietnam, and also guided African countries Ghana, Mali and Gabon during a 40-year career.

"With deep condolences and sorrow, I would like to inform our long staying guest Mr. Karl Heinz Weigang passed away in Germany this morning," read a tweet from the club's official Twitter page.

Weigang was working with Perak as recently as February before being "rested" by the state side, and replaced by former Selangor coach Mehmet Durakovic.



View image on Twitter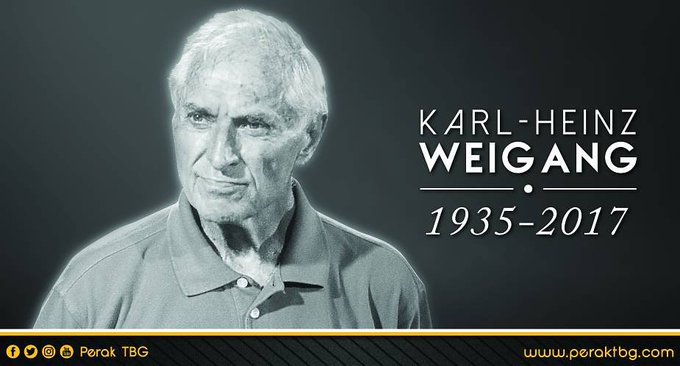 Follow
Perak TBG OFFICIAL @mediaperaktbg


With deep condolences and sorrow, I would like to inform our long staying guest Mr Karl Heinz Weigang passed away in Germany this morning.
4:28 PM - 13 Jun 2017

532532 Retweets
131131 likes
Twitter Ads info and privacy



He had a contract with the club until June, but left for Germany several months ago for minor eye surgery, and to undergo a football course.

Weigang's passing means a huge void for Malaysia and Perak, where he leaves behind a legacy that will be long remembered. .

As national coach, he guided Malaysia to perhaps their biggest achievement by helping them qualify for the 1980 Olympic Games in Moscow.

Malaysia would pull out of the Olympics in protest of the Soviet Union invasion of Afghanistan, but his heroics were portrayed in the popular 2016 film Ola Bola.

With Perak, Weigang masterminded two Malaysia Cup titles in 1998 and 2000. And later in his career, he twice saved them from relegation.

When the club were flirting with the drop in 2014, he returned as technical director to keep them in the Malaysia Super League (MSL).
Karl-Heinz Weigang answered Perak's call last season to help save them from relegation.

Last year, the Bos Gaurus again called on them to save them when they were only two points above the relegation zone under Syamsul Saad.

Answering the call of his beloved club, Weigang left his wife behind in Germany once to not only preserve their MSL status, but also lead them to a fourth-placed finish.

"I am hurt that my services have just been terminated like that. But this a club I love so much, and everyone associated with Perak, including the beloved fans, will always have a special place in my heart," Weigang told ESPN FC after being rested in February.

Always one to speak his mind and a firm believer of his principles, Weigang's stern ways didn't always sit well with his players.

But his firm approach also brought out the best in many of his understudies, including Khalid Ali, whom Weigang transformed from a defender to a powerhouse midfielder in the 1980s.