Duterte apologizes for Korean's killing
Dharel Placido, ABS-CBN News
Posted at Jan 26 2017 04:50 PM | Updated as of Jan 26 2017 06:43 PM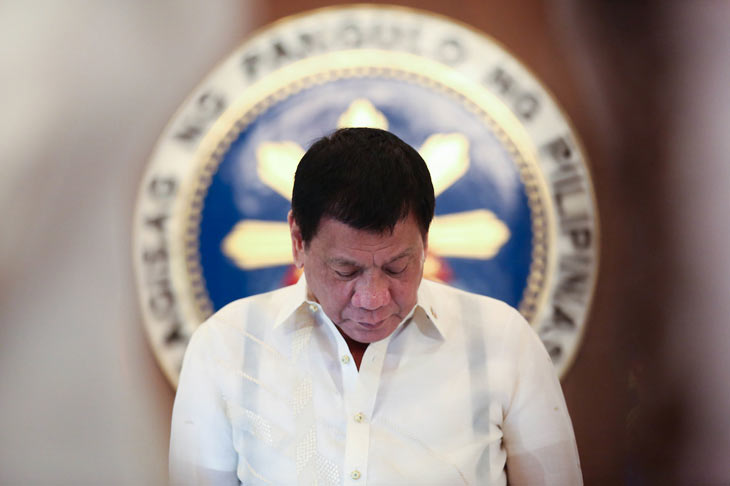 President Rodrigo Roa Duterte. Toto Lozano, Malacanang Photo
MANILA (UPDATE) – President Rodrigo Duterte on Thursday issued an apology for the abduction and killing of a South Korean man allegedly by rogue cops, warning those involved in the gruesome crime will pay big.
"I apologize for the death of your compatriot. We are very sorry that it had to happen, but I can assure you those responsible are known to us already and they will go to prison and I will see to it that they are sentenced to the maximum," Duterte told several South Koreans during his speech at a switch-on ceremony of a coal plant in Sarangani.
Duterte also warned those involved in the crime that they will suffer for their acts.
"I'm very sorry for that sordid incident, but I can assure you, I will see to it. Better if they escape [from] prison. T*** i** kayong mga pulis. Bantay kayo. Hindi ko kayo papalusutin. You will suffer,"he said.
"Maybe I can send your heads to South Korea."
This is the President's first public reaction to the scandal that has gripped the entire Philippine National Police, the institution most vital to his war on drugs.
Murder most foul: Timeline of 'tokhang-for-ransom'
Previously, Duterte turned down PNP chief Director General Ronald dela Rosa's offer to resign in the wake of the controversy.
The abduction of Jee Ick-joo and his alleged killing inside Camp Crame is considered a smack in the face of police chief Dela Rosa's much-vaunted "Oplan Tokhang" anti-drug campaign, after it was discovered that the victim was kidnapped in October 2016 under the guise of an anti-drug operation.
"I want to disappear from this world because of so much shame after what my men did," Dela Rosa earlier said.
Jee's killing also shocked the South Korean community, which has a big presence in the Philippines.
We are afraid: Koreans pray for Jee at Camp Crame
Jee's kidnap-slay is the latest in a long list of controversies which has been hounding the PNP, considered as one of the most corrupt institutions in the Philippines.
Prior to assuming his post as the country's top cop, Dela Rosa dismissed fears that rogue policemen will take advantage of then President-elect Duterte's anti-drug push.
However, a string of controversies such as the killing of Albuera, Leyte Mayor Rolando Espinosa Sr. under questionable circumstances did not stop Dela Rosa and Duterte from pushing through with their controversial war on drugs. Even Duterte chose to side with policemen behind Espinosa's killing, led by Supt. Marvin Marcos.
Duterte has always defended the police, saying he will provide them assistance should they face charges in the performance of their duty.